News Details
Current News | News Archive | Search News
NYC Just Passed a Law Requiring Employers to Post Salary Ranges in Job Ads.
by Inc.com - MELISSA ANGELL - 01/06/2022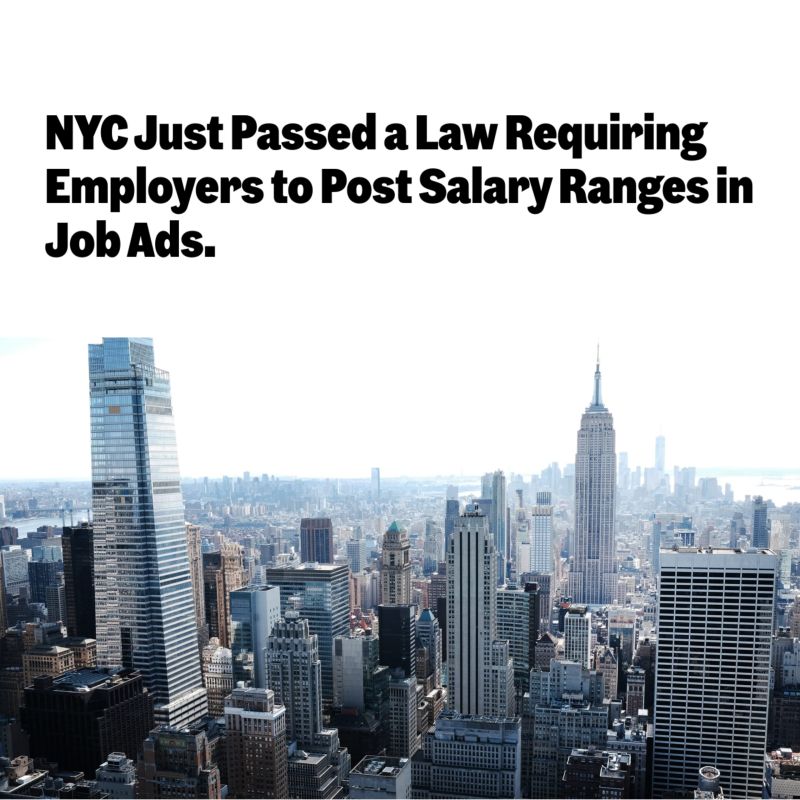 "There's Actually an Upside Even if pay transparency laws haven't made their way to your state, being more forthright with salaries in job listings could help you hang onto employees amid the Great Resignation."
Starting in April 2022, the New York City Council will require employers in the Big Apple to post salary ranges on job listings. Even if your state hasn't pushed a similar law yet, it could--and it might even be a good employee retention strategy.

The bill, which passed on Wednesday in a 41 to 7 vote, says employers failing to list minimum and maximum salary ranges for New York City-based roles are engaging in discriminatory practices.

"Lack of salary transparency is discriminatory and anti-worker," council member Helen Rosenthal said in a statement. You might think differently about it. Posting salary ranges could, after all, lead to having to fork over more money to employees.

No matter your feelings on the subject, now's the time to start weighing your options and possibly recalibrate your employee salaries. Many companies are already doing so. Businesses overall are expected to boost pay by an average of 3.9 percent in 2022, according to a November survey from the Conference Board, a private research group. One thing you can't do is ignore the law. Those that skirt the law could also be slapped with fines or a lawsuit.

You might think if you're not based in NYC you dodged a bullet. Not quite. Similar pay transparency laws already exist in California and Colorado, and what happens in one state has a way of spreading.

The good news is employees tend to favor pay transparency. In its 2021 Compensation and Culture Report earlier this year, compensation management software provider Beqom shows that nearly two-thirds of polled workers said that they were more willing to work at a company that discloses its gender pay gap metrics. So the changes could serve you in the long run--and especially if labor shortages continue.
More Details:
https://www.inc.com/melissa-angell/new-nyc-law-will-require-employers-to-post-salaries.html