News Details
Current News | News Archive | Search News
JPMorgan Chase hiring up to 300 new employees in Philadelphia, Delaware and South Jersey
by - 09/26/2018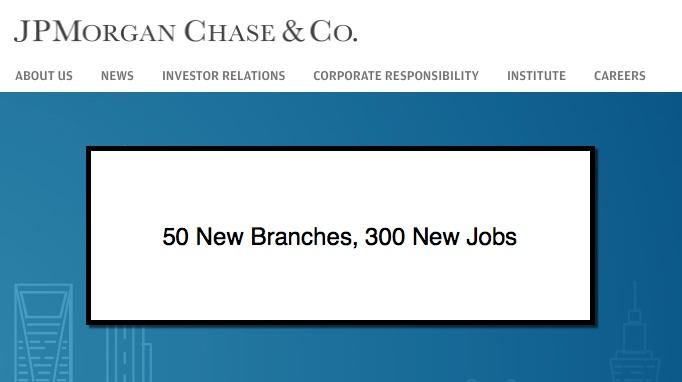 ""
JPMorgan Chase today announced an expansion of its branch network to Philadelphia and the Delaware Valley and several new commitments that support economic growth and workforce development in the region. This expansion is part of the firm's recent $20 billion, five-year investment in its business and local economic growth.

Over the next five years, JPMorgan Chase intends to open approximately 50 new branches and hire 300 new employees in the Delaware Valley region, giving local customers access to its banking services while creating local job opportunities for residents. Currently, the firm has nearly 5,100 branches in 23 states and plans to open 400 new branches and hire as many as 3,000 employees in new markets in the next five years.

"The Delaware Valley is an incredibly important market for us," said Jamie Dimon, chairman and CEO. "We already have thousands of employees here that serve our customers every day. This will create even more well-paying jobs with healthcare and retirement plans for people in the area, and better serve our existing and new customers."
This expansion will add to the firm's current base of more than one million consumers and over 30,000 business clients in Philadelphia and the Delaware Valley region. The bank has been doing business in the region for nearly 20 years with more than 11,000 current employees, including in its major credit card hub in Wilmington, Delaware.

"To us, this expansion is so much more than building a branch. This is about new relationships with customers, communities and employees," said Thasunda Duckett, CEO, Chase Consumer Banking. "When we build a branch, we lift the whole community around it – contractors to build the branches, cafes and other small businesses to support the customer traffic. It's a very positive ripple effect."
The firm is actively hiring staff to support its new branches in the Delaware Valley. Entry-level employees in Philadelphia branches will be paid no less than $16.50/hour and will receive the firm's full benefits package, which is valued at an average of $12,000 annually per employee in this pay range. It includes health care coverage and retirement savings, as well. To help ease the burden of out-of-pocket medical expenses, the firm also recently reduced medical plan deductibles by $750 per year for employees making less than $60,000.