Event Details
Upcoming Events | Past Events | Search Events
Warren, MI Skilled Trades Job Fair
by City of Warren - 05/14/2019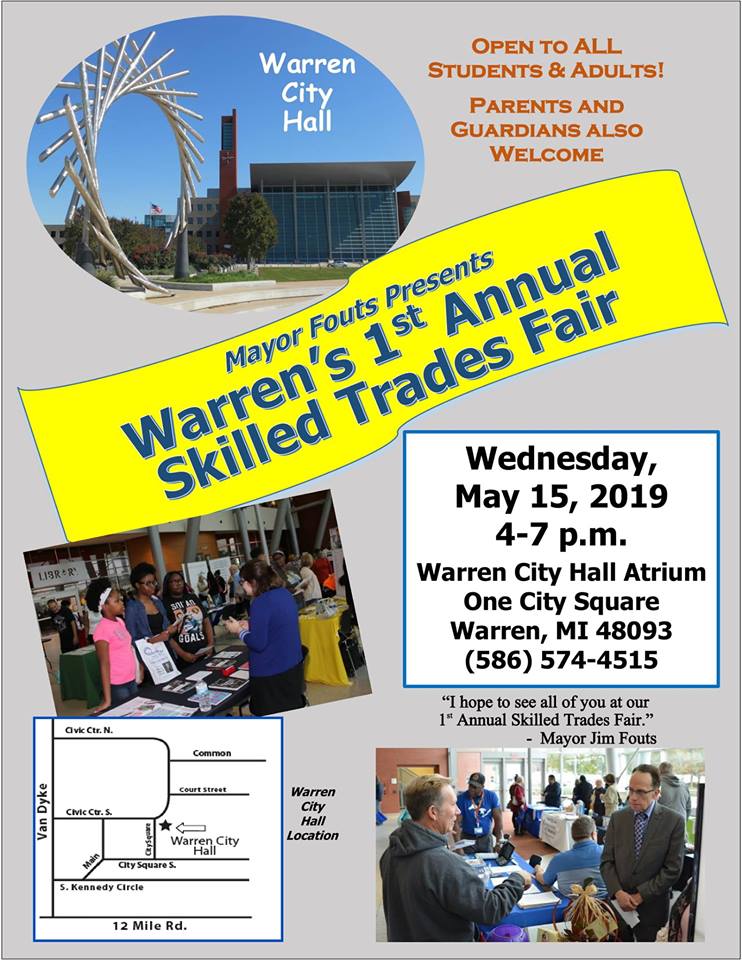 ""
Event Period: 05/15/2019
Event Location:
Warren City Hall
1 City Square
Warren MI. 48093
Warren, MI Skilled Trades Fair

Wednesday, May 15th
4-7 pm


Wednesday, May 15th in the Warren City Hall Atrium for Warren's First Annual Skilled Trades Fair Presented by Mayor Fouts.
This event is open to students and adults interested in working in the skilled trades industry.

According to Pure Michigan Talent Connect, wages for professional trades occupations are "45% higher than other occupations – $51,000 is the median annual salary for these jobs." Yet, there is still a sizable shortage of people in this workforce throughout the state, and even across the country. Many students seek out bachelor's degrees upon completion of high school, while never considering a career in skilled trades. Rather than paying high rates for tuition, many trade positions offer paid training or apprenticeship positions.

To help residents explore opportunities in the fields of skilled trades, the City of Warren is hosting its first-ever Skilled Trades Fair. The event will take place in the City Hall Atrium on Wednesday, May 15th from 4-7 p.m. Local businesses, unions, and trade schools will be on site to answer your questions about job openings and opportunities in a variety of fields, including carpentry, HVAC, electrical, construction, and more. This event is free to attend and is open to both students and adults.

Warren's City Hall is located at 1 City Square.
More Details:
http://www.miwarren.org/warrens-skilled-trades-fair/